How to find your size
Sizes mean nothing!! One manufacturer's size 8 is another one's 12. UK sizes look the same as US, but they're not. Because US sizing has changed over the years, finding your size in vintage clothing can be a challenge. But armed with your accurate measurements, you can decipher any sizing system.
What you'll need - A cloth tape measure and a full length mirror. Take measurements undressed or in lightweight clothes. Pull the tape measure snug, but not too tight. Keep your arms at your side and have a friend take the measurements, for the best results. And don't slouch! Stand up nice and tall.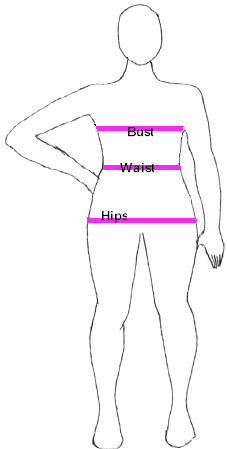 Bust
Measure around the shoulder blades, under the armpits and over the fullest part of the bust.
Waist
Find your natural waistline and measure.
Hip
Measure the fullest part of the hip (usually about 7-9 inches below the waist)
Bra Size
1. Wear a comfortable bra and measure the rib cage just below the breast. If the number is 33 or less, add 5 inches to that number and that is your bra size. Over 33 inches add 3 inches to get you bra size. Both ways, rounding odd numbers up to even.
2. Then take measure the bust around the fullest part. When you subtract the last number (fullest part) by the among of your bra size, you'll come up with a number used to determine cup size by using the chart below (the A,B,C, etc. cup chart) For example if your bra size was 36 and your cup measurement was 38, the difference is 2" so you would wear a 36B.
Use this chart:
AA = 1/2"
A = 1"
B = 2"
C = 3"
D = 4"
DD or E = 5"
F = 6"
G = 7"
Hats
Measure above the ears about 1/2" around the forehead.
Gloves
With hand partially closed, measure over the knuckles, around the hand, excluding the thumb.
Tips
-UK sizes may seem the same as U.S. women's, but are generally about a size smaller (a U.S. 8 is about a UK 10) To find your European size, you can add 30 to your size. A U.S. 6 is a Euro 36. Always refer to size charts for fit!
-When buying vintage clothing, be aware that the sizes have changed drastically over the years. Consult Vintage Vixen for good vintage sizing tips.
-If it's cotton, it's going to shrink. Add anywhere from 1/3" to 3/4" extra to compensate. Some makers count potential shrinkage into the size already. When in doubt -- ask a customer service person.
-Many manufacturers or stores may have their own special fit and size tips. It's a good idea to consult any additional information.
-Get a great tailor, because no matter how closely you order your size, it's still not custom made.