Lingerie Fitting Guide


Getting it right underneath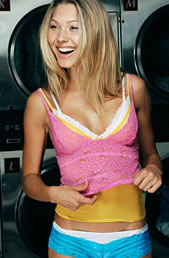 The right undergarments can make or break your look. Find some quick tips now.

Determine your bra size
How to take great measurements and determine cup size, from your Guide to Fashion.

Choosing a bra depends on your figure type (whether small-chested or well-endowed) and on your wardrobe needs (from low-cut, clingy knits to high-necked, tailored wovens). There is a wardrobe of bras to choose from that covers a wide variety of needs, from smooth satiny styles to wear under silks and knits to strapless or convertible bras for that special gown. Aside from being one of the most purchased and necessary items in a woman's lingerie wardrobe, underpants come in a variety of styles to suit every fashion whim or need. Made of fabrics such as cotton, nylon, silk or lace, underpants also come in lightweight, stretchy blends with LYCRA. The most talked about category in intimate apparel is shapers - and they're definitely not your grandmother's girdle! What makes the difference are lightweight fabrics enhanced for comfortable control that smoothes and shapes the body. From bottom boosters to thigh trimmers, these shapers are perfect for today's body-conscious clothes. A number of lingerie items are designed to be worn as fashion ready-to-wear, such as lace-trimmed leggings and camisoles that peek out of jackets. Others are playful and sexy, like teddies and bralettes; or sporty, like crop tops and leggings. Fabrics include rich velvets of luxurious MICROMATTIQUETM microfiber polyester or knits in cottony soft SUPPLEX® nylon - each blended with LYCRA® for superior comfort, fit and freedom of movement. A non-clinging slip, half-slip or chemise is an essential item to create a smooth body line under clothes and allow clingy knits to skim over the body. In addition to the slimming slips described in the Shapers section, there are slips made of fabrics with anti-cling, antistatic properties that won't wash out, such as DuPont ANTRON III® nylon.